Fr. Dr. Dominic Wakimani Wamugunda – 4th Dean of Students (2004 to 2020)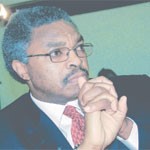 Fr. Dominic Wamugunda a Lecturer of Sociology at the University of Nairobi was the 4th Dean of Students since 2004 until 2020 . He over the years steered the department and also wrote an influential weekly column for the Sunday Nation Newspaper. He holds a Dip. in Philosophy (St. Augustine Seminary) B.A. Theology (Urbanian University, Rome), M.A. Communication (University of Rome) Ph.D. Communication(University Rome)
Emmy Jemutai Sumbeiywo – 3rd Dean of Students (1992 -2004)
The 3rd Dean of Students, Emmy Sumbeiywo, brought attention to the University on the HIV and Aids menace and the manner in which it ravaged both students and staff during her Leadership.  She called the trend worrying and appealed for speedy intervention to salvage the University of Nairobi Community through diverse interventions. Further, Emmy Sumbeiyo, attributed poverty as a cause to the spread of the HIV Virus.
 Amos Kariuki – 2nd Dean of Students (1982-1992)

Mr. Amos Kuria was the 3rd Dean of Students during the leadership of two different Vice Chancellors that is Prof. Joseph Maina Munga and Prof. Philip Muinde Mbithi. During his12 years in office Mr.Amos was vocal in ensuring that concerns of Students accommodation and extracurricular activities were handled accordingly.
Joseph Karuga Koinange – First Dean of Students (1971-1979)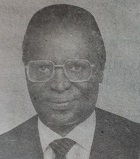 Mr. Joseph Karuga was the first Dean of students at the University of Nairobi and also the first African Principal of Kenyatta University College between 1979 -1981. He was also instrumental in the opening of Kenya's first High Commission office in London after independence. During the thanksgiving event, Karuga asked the youth to take up Kenya's leadership and asked elected leaders to shun corruption terming it "the source of poverty in our country."  Joseph Karuga Koinange, departed peacefully for his heavenly home on 25th January 2018 at the age of 94 years. On 26th January 2018, (PSCU) President Uhuru Kenyatta sent a message of condolence to the family, relatives and friends of the late Joseph Karuga Koinange. The President said the late Karuga left a rich legacy worthy to be emulated by all public servants. His foot prints can be seen in all places where he served," said the President "Indeed his was an exemplary service to the nation as demonstrated by the institutions which he helped to set up and manage," he added. The President prayed to God to give the family courage and fortitude to bear the loss.