#UoN @ 50 years
The University of Nairobi, the oldest and largest university in Kenya, came into being in 1970. It was originally called the Royal Technical College of East Africa that was established by the colonial government with financial backing from the Gandhi Memorial Academy Society as a Technical and Commercial Institute in 1956.  The University of Nairobi came into being on 1st July of 1970 when the University of East Africa was dissolved and held its first graduation on December 4, 1970. In 2020 the University will be holding its 50th Golden Jubilee celebration.
 DEANS OF STUDENTS (1970 to 2020)
 Johnson Ireri Kinyua – Acting Dean of Students (June 2020 to Date)
Johnson Kinyua is the Acting Dean of Students at the University of Nairobi and also the Director of Career Services. He holds MBA (Strategic), B.Com (Management) and currently pursuing Master in Public Administration from University of Nairobi and PhD from Jomo Kenyatta University (JKUAT).  He has strong drive for achievement, passionate, energetic and always ready to learn. His Key Areas of Expertise are · Students Welfare, Counselling and Mentorship · Leadership, Strategy and Change Management · Fundraising, Friend-raising and Resources Mobilization · Alumni Relations, Volunteer Management and Community Service ·Marketing, Communication and Events Management.
Fr. Dr. Dominic Wakimani Wamugunda – 4th Dean of Students (2004 to Date)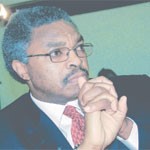 Father Dominic Wamugunda is the Dean of Students and a Lecturer of Sociology at the University of Nairobi. He writes a weekly column for the Sunday Nation (currently on Sabbatical Leave). He holds a Dip. in Philosophy (St. Augustine Seminary) B.A. Theology (Urbanian University, Rome), M.A. Communication (University of Rome) Ph.D. Comm.
Emmy Jemutai Sumbeiywo – 3rd Dean of Students (1992 -2004)
The dean of students, Emmy Sumbeiywo, said the issue of Aids at the university was worrying.
She said the spread of the disease was due to Poverty (May 4, 2002)
 Amos Kariuki – 2nd Dean of Students (1982-1992)

Joseph Karuga Koinange – First Dean of Students (1971-1979)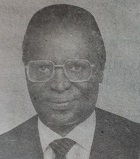 Dean of students at the University of Nairobi and was the first African Principal of Kenyatta University College between 1979 -1981. He was also instrumental in the opening of Kenya's first High Commission office in London after independence. During the thanksgiving event, Karuga asked the youth to take up Kenya's leadership and asked elected leaders to shun corruption terming it "the source of poverty in our country."  Joseph Karuga Koinange, departed peacefully for his heavenly home on 25th January 2018 at the age of 94 years. On 26th January 2018, (PSCU) President Uhuru Kenyatta sent a message of condolence to the family, relatives and friends of the late Joseph Karuga Koinange. The President said the late Karuga left a rich legacy worthy to be emulated by all public servants. Mr. Karuga was the first African Principal of Kenyatta University College. "Karuga was a committed and devoted public servant. His foot prints can be seen in all places where he served," said the President "Indeed his was an exemplary service to the nation as demonstrated by the institutions which he helped to set up and manage," he added. The President prayed to God to give the family courage and fortitude to bear the loss.